Liang brought over Kiba to play with Mozilla today. The last time this happened, there was pee everywhere, including all over my couch, so it was dubbed the "pee party." I was hoping for an improvement this time and it was better, but…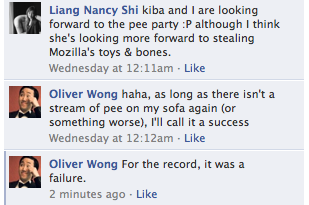 I got my 5D Mark III and it's been a very pleasant experience so far. I've really only taken photos of Mozilla, though. Here are a few for your viewing pleasure:
Olivia brought to my attention that Mozilla now has a unibrow. =( However, I will say that he has an "M" for Mozilla on his head.